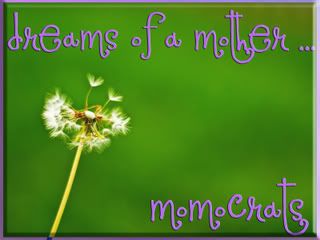 After discovering
this site
that reminds us that the original intent of Mother's Day was to encourage mothers to unite in political action to change the world for good,
Momocrats
has asked us each to share a social issue close to our hearts.
These days I have so many dreams for my girls.
I dream of a world that's kind and gentle to our environment so we no longer suffer droughts or severe weather and the sun warms, not burns, our skin. I dream of a country that once again leads in innovation and education and inspires trust and respect from the rest of the world. I dream of a world free of suffering from illness, where everyone has access to the best health care available. I dream of a society that values its citizens more than its economy, its leisure time as much as its work hours, so that everyone can lead happy, balanced and fulfilled lives.
But mostly for my girls I dream of a world that cares for its most important caregivers -- its moms. I dream of a time when the mommy wars no longer rage because moms can maintain a successful career and still be strong and present mothers. I dream of a country where moms who work to support their families feel supported by their employer and their government. I dream of paid maternity leave, affordable and wonderful childcare, flexible work schedules and school schedules that take work into account. I dream of a culture that encourages dads to be as involved and present in their children's lives as moms. I want my girls to be free to follow their hearts and pursue their dreams without having to sacrifice them or put them on hold for motherhood. I want to save them the heartache and anguish that I and many of you suffer every day by trying to be a mom in a world that was created for men, not moms, to succeed.
This is what I think about every day. This is why I started this blog. This is why I joined
momsrising.org
. I hope you will too.
Happy Mother's Day, everyone.